Client Reviews and Testimonials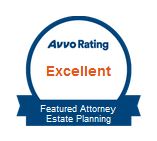 Here are recent reviews that have earned us a top rating by AVVO and accolades from Clients and peers.

Excellent negotiator
"Michael Alpert provided outstanding legal advice to myself and my entire family. He is compassionate, a great negotiator, experienced and always available to answer our questions. He is worth every dime, I highly recommend him!" – Anonymous

Very professional, compassionate & caring
"My husband & I have sought Michael's learned advice on a number of legal matters. Not only is he well versed in the law, but also a very professional, compassionate & caring person." – Beth M.

A superb attorney
"I had a rather unique and complex estate planning issue. Mike knew exactly how to proceed, communicated with me on a regular basis, and made sure my concerns were addressed. He is extremely competent and professional and is a terrific caring individual as well – something you don't always see in this profession. I would recommend Mike without reservation to anyone needed get estate planning guidance." – Donna

Gets the job done
"I went through a lot of lawyers that couldn't get the job done. I live in the state of Colorado now and Michael Alpert handled all my court fines and cleared all my warrants from New York without me going back to appear. I found Michael from a friend from Facebook. It was the best decision I've ever made. Although I won't need Michael's services anymore. I highly recommend this guy to get THE JOB DONE!!!! ONCE AGAIN MICHAEL I THANK YOU SO MUCH FOR HELPING ME OUT." – Matthew

Exceeded expectations
"I had a traffic ticket in which this was my second offense of the same thing. Usually never used a lawyer but found Mike online and called him up. To put it into simple words, he was able to take me from having an extra 5 points on my license to 0 POINTS!! Couldn't be happier. Will definitely recommend to friends and family if needed." – Mike

Excellence at its finest
"I got into a car accident totaled my car and the police officer gave me two tickets just to be a jerk. I googled traffic ticket lawyers and I found him I've never hired a lawyer before so I was very nervous but I called him several times he explained everything and answered any question I had, as he promised, I went from 6 points on my license to zero. I'm so happy I took the chance with him. He was awesome if I could give him 10 stars I would. I will always use him as my lawyer thanks so much!!!! Also his prices are very reasonable." – Kimberly

Very professional & excellent traffic lawyer
"Michael is a very professional and excellent lawyer to work with. He made the process of fighting our tickets very easy, and he kept great communication with us during the entire process." – Stephanie W.

Very helpful and knowledgeable
"I found Mr. Alpert on the internet. I needed a lawyer to help me clear up some outstanding tickets in Nassau County. I live in Brooklyn and couldn't get time off from work to get out to Nassau. Mr. Alpert did all the work for me, got my tickets reduced and even got points taken off my license. I always spoke directly to him and when I emailed him he always responded back in a timely manner. He was very helpful and knowledgeable. Also, his fees were reasonable. It was definitely a very pleasant experience and I would recommend him to anyone who needs a lawyer. And of course I would definitely use him again. But hopefully I won't need to, at least for traffic violations." – Tiara T.

Knocked 5 points down to 0 points – Highly Recommended!
"Michael is highly recommended. We hired him to handle some traffic violations. He was able to knock 5 points down to zero points and some minor fines. His fees are reasonable as well." – Alan N.

Expect nothing but the best
"Expect nothing but the best. 18 points reduced to zero." – Melwin W.

Professional and experienced Attorney
"I requested Mr. Alpert's services and am pleased to have done so. He was very prompt in his replies and showed much professionalism and sincerity when handling my case. He made the process much easier to deal with by giving clear direction on what is to be expected." – Anonymous

Excellent and patient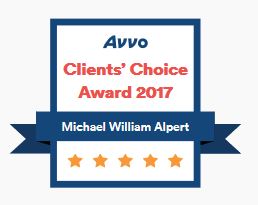 "From the initial phone call, I instantly knew he was different and actually cared and took time to discuss my case. My case was a nontraditional debt collection/family law case, however, Mike was experienced in so many facets of the law. He always took the time to translate the legal language that is difficult to decipher to the average person, in addition and I granted him permission to sign on my behalf due to the geographical difference. This was so helpful and made the process very seamless and eliminated me having to take time away from the office. He would always answer my questions off hours if needed. Mike is an actual attorney that cares and has his client's best interest at heart. He helped me tremendously with a very sticky law suit, and I was extremely happy with the settlement he negotiated for me." – Jaimie

Excellent advice and counsel
"Mr. Alpert provided excellent advice to me in two critical areas: preparing my will and in a subsequent insurance incident. In preparing my will, he listened closely to my questions, responded thoughtfully and prepared the will in a careful and complete manner. In the latter incident, he appeared in court with me, provided sure and steady guidance as my attorney, and the matter was resolved in my favor. I would highly recommend him." – Caroline

"Mike Alpert helped me on matters like estate planning, business formation and traffic violation. I am very happy with the results and can recommend Mike for his wide scope of expertise." – Rolf

Lawyer Cares About His Clients
"Michael is a lawyer that not only is interested in the core business of law practice but takes the time to care about his clients as well. When I met Michael I was going through a very painful experience in life, fiance just passed away unexpectedly. Michael not only took care of the business aspect of my visit, he also spent time speaking to me as a person and gave me kind words and optimism that time would heal and things would get better. Michael is a person that exemplifies a good attorney with fantastic manner in which to speak and handle people. I highly recommend him."

Excellent
"After my husband passed away I felt lost and afraid. I knew I needed a lawyer to help me with with all my legal matters. I went on the internet and the first one I saw was Michael Alpert. I didn't go any further. I was impressed with his profile. I called him for an appointment and he was kind enough to come to my house for a consultation. I saw something in him that I truly liked. Beside being very knowledgeable and smart he was also kind and caring and he truly understood what I was going through. He helped me so much. I knew right away I could trust him with all my legal matters I am very happy to have Michael for my lawyer and I recommend him highly. Thank you Michael for getting me through a very difficult time." – Mary

Excellent Estate Attorney
"Mike is an affable personality who was able to put me at ease immediately. His calm and confident manner eased my anxiety over issues with my cousins estate." – Barbara

The Best! – Does What A Lawyer is Supposed to do
"Attorney Michael William Alpert is excellent at what he does. He has saved me more times than I care to count. He's got it down. He knows the ropes. Just give him the details and wait. So simple. I highly recommend him and have never been dissatisfied. In fact, I am always pleasantly surprised at the outcome." – CJ

Best Lawyer Ever!
"Michael is a warm and kind person which automatically puts a client at ease, especially while discussing such sensitive matters as estate planning. He is efficient and professional. I feel lucky to have him as my lawyer!" – Claudine

"Mike was very informative and straightforward with everything in my case. I had 3 tickets that were over a year old, ranging from a no signal violation to a speeding violation of 90 over 55 which all lead to a suspension. After I consulted Mike for the first time, within 10 days, I was able to take care of all my tickets and my suspension. I highly recommend him; he is a great lawyer." – Eric

"Mr. Michael Alpert represented me regarding traffic tickets I received. I cannot say enough about how satisfied I am with his representation.I recommend Mr. Alpert services to anyone in need of a great lawyer." – Thomas

"I recently retained Mr. Alpert to assist with my son's traffic violation. I initially reached out to him and despite being away he responded. He was consistent and timely in his response. My son had 2 court dates. He represented him in both instances. The charge of aggregated unlicensed operator could have come with hefty fines and possible jail time. He negotiated to no points assessed, no jail time and minimal fee. Hands down he was more than I expected. I will be using him again and recommending him to my friends and family. He is honest and knows the law." – Norma D.

"I endorse this lawyer. I have known Michael since we attended Hofstra Law School. He has a wide array of expertise, offering expert counsel in many areas. He was of particular assistance to my wife in connection with vehicle/driver's license issue, securing full dismissal of the matter. He also drafted our wills. I have full trust and confidence in his abilities and would seek his counsel on almost any matter. In sum, he is a terrific attorney." – Richard B.

"I had a car forfeiture case which has been settled by mike. He responded back to me as quickly as he can and answered me all the questions and finally came up with a wonderful settlement with the plaintiff. I felt him as a friend rather than lawyer while working with him. i recommended my friend to him for and even he is happy." – Rohit

Highly Recommend!
"I hired Mr. Alpert to take care of my son's traffic violations. He is extremely friendly and will answer all your questions. I've emailed Mr. Alpert after business hours and on weekends expecting an answer the following business day but he answered within a few hours, sometimes even within the hour. He handled all my son's traffic violations with amazingly good outcomes. I don't know how things work in the courthouse but I feel like Mr. Alpert's great personality along with his obvious knowledge of the law make him very well liked and definitely helps him get the positive outcomes for his clients. I have recommended him to family and friends, they have also had a positive experience. You will not regret using this lawyer." – Dawn