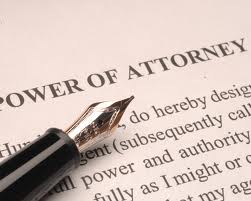 Due to new safeguards instituted by the New York State Legislature after reports of abuse of fiduciary power, all powers of attorney executed as of September, 2010 must be signed by both the principal (individual granting enumerated powers) and the agent (fiduciary receiving powers) in the presence of a Notary Public. Prior to these changes, only the principal needed to sign the document in the presence of a Notary.
Additional safeguards include a separate Gifts Rider wherein if the principal decides to grant the agent the power to give gifts to others for a sum of $500 or more, a separate gifts rider must be signed and executed in the presence of a Notary. Further, the principal can decide to have an independent third party act as an independent oversight for the agent to ensure that no abuse of discretion occurs.
It is imperative that you consult a qualified New York estate and trusts lawyer if you decide that you want to have a durable power of attorney. You need to take the time to contemplate who you want to serve as your agent as this individual can be given broad discretion with respect to the handling of your business and financial affairs.