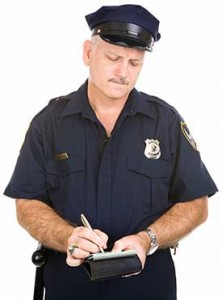 The New York State Department of Motor Vehicles (DMV) does not record out-of-state violations committed by NYS drivers in other jurisdictions. The exceptions are alcohol-related violations, drug-related violations, and moving violations committed in Quebec or Ontario. Under special agreements, traffic convictions in Quebec or Ontario are recorded on NYS driver license records and carry points. Except for violations in Ontario and Quebec, points are not added to your NYS record for out-of-state violations. If you have received a moving violation in another State, be sure to clarify the legal repercussions and options you have with your Long Island Traffic Attorney.
If you do not respond to a ticket or fail to pay a fine for a moving violation that you committed in any state except Alaska, California, Michigan, Montana, Oregon or Wisconsin, the DMV suspends your NYS driver license until you respond to the ticket or pay the fine. If a driver from a state except these six states fails to respond to a traffic ticket issued in NYS, their driver license will be suspended until the driver responds to the traffic ticket in NYS.
Drivers from other states must contact the DMV in their home state to get information about the effect of a traffic violation conviction that occurs in NYS.
If you receive a conviction for an alcohol-related or drug-related driving violation in any state, your NYS driver license is revoked for at least six months.