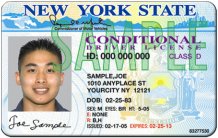 What is a conditional license? If your NYS driver's license has been revoked or suspended because you are convicted for a DWI-related offense, the Department of Motor Vehicles may issue a "conditional license," which gives you conditional driving privilege.
The DMV will determine if you are eligible to attend an Impaired Driver Program or IDP, previously known as Drinking Driving Program or DDP. Even if you are not eligible for this type of license, NY law mandates participation in IDP for convictions of alcohol or drug-related violations. And sometimes, during specific plea-bargaining situations.
Generally, to be eligible for the IDP program, you will need to have been convicted of a DWI-related offense and within the last five years, you have not been convicted of a DWI-related offense years or has not enrolled in the IDP program within the last five years.
Most people will enroll after a conviction of a DWI-related offense in order to obtain conditional driving privileges during the post-conviction period of driver license/privilege suspension or revocation or because IDP participation is mandated by the judge as a condition of a sentence.
It is very important to note that if you receive the privilege of a conditional license, you must review the limitations where one can drive. Usually, your privilege is limited to driving to and from home, work, school, or medical appointments.
If you need more information of DWI-related matters or conditional licenses, it is important that you speak to an experienced Long Island DWI attorney at the Law Offices of Michael W. Alpert, Esq.
Call 516-280-7288 to set up a FREE consultation or contact us online.