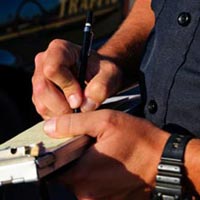 Pursuant to Vehicle and Traffic Law (VTL) 1172(a) (failure to stop for a stop sign), the maximum fine for a ticket going through a stop sign in Nassau County is $150, plus mandatory state surcharges of $88-$93 depending on the jurisdiction of the Court. Further, the fines can increase if there are multiple violations of this statute within an 18 month period. While the possibility is remote, there is possible jail time of 15 days for conviction under the law.
In most cases, if you have a DMV abstract that is not filled with multiple moving violations, your best bet is to retain an experienced traffic attorney who is familiar with the courts in Nassau County. By taking this route, the attorney can properly consult with you and assess your case. They can also tell you the best course to proceed, which in most cases, will involve a conference with the prosecutor to try and achieve a reduction to a lower charge, hopefully a no points parking ticket or jaywalking ticket.
You should be mindful that you do not have to plea bargain the case if you believe you did not commit the violation. But setting the matter for trial will be more expensive and time consuming. Of course, if you ticket falls under the jurisdiction of one of the New York City TVBs, there is no negotiation and the matter will automatically be set for a hearing on the charge.
If you required the services of an experienced Nassau County traffic ticket attorney, please contact The Law Offices of Michael W. Alpert at (516) 280-7288 or malpert@alpertlegal.com.