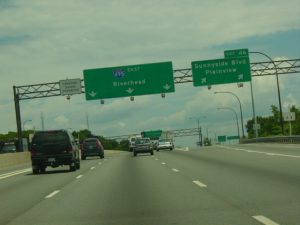 New York Vehicle and Traffic Law (VTL) 1128(a) governs the violation of an "unsafe lane change". Please note that while that a conviction under this statute is a traffic violation and not a misdemeanor or criminal offense, it does carry three (3) DMV points upon conviction. Furthermore, this charge is considered a "serious traffic conviction" and can have significant ramifications if you hold a commercial driver's license (CDL) as there can be suspensions imposed upon multiple convictions.
A charge under this statute can usually be plea bargained to a reduced charge. An experienced traffic attorney can help reduce this violation to a non-moving violation, and quite often a parking or jaywalking ticket with no effect on your insurance premium or driving record.
If the motorist is also convicted of a moving violation, in most cases the underlying fine that carries a maximum fine of $150 will also carry a mandatory state surcharge of $88 on top of potential administrative fees depending on the particular court that has jurisdiction over your case.
If you require an experienced traffic attorney, please call The Law Offices of Michael W. Alpert at (516) 280-7288 or e-mail malpert@alpertlegal.com.