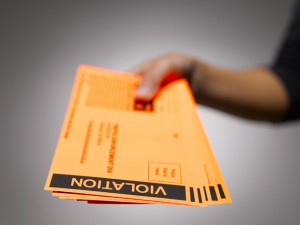 When considering what lawyer you should use to handle your traffic ticket (violation or misdemeanor), there are certain factors you should consider. One of the most important factors to take into account is whether that attorney has the experience dealing with the prosecutors in the various local courts. For most traffic tickets issued in Nassau County that are violations, they will be handled through the Nassau TPVA located at 16 Cooper Street in Hempstead.
However, if the traffic ticket is issued for a misdemeanor violation (i.e. reckless driving, driving with a suspended license or registration, DWI/DUI), those matters will be adjudicated 'as criminal matters in Nassau First District Court located at 99 Main Street in Hempstead. The Law Offices of Michael W. Alpert are very familiar with the procedures and personnel at both of these venues and is well equipped to handle whatever traffic tickets you, your loved ones, or friends may be issued.
Tickets issued in Suffolk County would primarily be adjudicated through the Suffolk TPVA located at: 100 Veterans Memorial Highway, in Hauppauge, NY, unless it falls under the classification of misdemeanor (as above), in which case your matter will be adjudicated through Suffolk First District Court located at: 400 Carleton Avenue, in Central Islip, NY. Our office is very familiar with these courts as well and would be glad to assist in representing you in these instances.
Of equal importance, a well-qualified traffic lawyer is familiar with the most updated version of the New York State Vehicle and Traffic Law (VTL). This is of paramount importance especially since the DMV is constantly updating the ramifications for violations of various sections of the VTL, including points, fines, and/or jail time.
In addition, top Long Island traffic lawyers have very realistic views on whether offers that are made by prosecutors or the District Attorney are fair and in your best interest. Top traffic lawyers will give you frank, honest legal advice based largely on your current driving record and whether you have any points or more importantly, any prior criminal convictions. The seriousness of the offense will also weigh heavily on the prosecutor's decision when tendering an offer to defense counsel.
If you need an attorney for any traffic tickets (speeding, DWI/DUI, any other moving violations) please contact us or call the Law Offices of Michael W. Alpert at: (631) 225-4603.