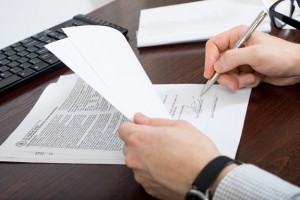 When a will is offered for probate in the Surrogate's Court of any county in New York State, interested parties (i.e. heirs-at-law, beneficiaries named in the will) must sign the waiver of process and consent to probate form in order for the Will to be presented to the surrogate without the need for formal process. In other words, if a distributee (i.e. relative who would receive a portion of the estate had the decedent died without a will) does not sign the Waiver form before the presence of a Notary public, that individual must be served with a formal citation (i.e. service of process) and must appear in Surrogate's Court on the return date for said citation if they wish to contest the validity of the will or the appointment of the proposed executor. If that individual fails to appear, it is presumed that they do not contest the appointment and the petition for probate (assuming service is complete and papers are otherwise in order) will be submitted to the Surrogate for a Decree of Probate.
It is important to note that an individual who is deemed an infant (under 18) or is otherwise considered to be a person under a disability (i.e. mental incapacitation, missing/unknown person, imprisoned person) can not sign the waiver and consent to probate. In these instances, a guardian ad litem will be appointed by the Surrogate's Court to represent this individual's best interests in the probate proceeding.
If you receive a waiver and consent to probate form, it is very important that you contact an experienced Long Island estate planning attorney at the Law Offices at Michael W. Alpert via phone at (631) 225-4603 or e-mail at malpert@alpertlegal.com.